Our Vision and Mission
By 2024, the BRFM will have gained commitment to deliver responsible and effective flood mitigation for the Bow River basin.
On behalf of our members we work collaboratively with the City of Calgary and the Province of Alberta to advocate for responsible and effective flood prevention. With this in mind we seek:
Upstream flood mitigation solutions to protect vulnerable communities, located along the Bow River from devastating flooding;
Prudent use of Government funds with effective and long term upstream mitigation solutions;
A solution that retains the Bowness community's natural river environment and animal habitat, through minimal manmade impact; and
Fair, equitable and transparent treatment from decision makers and their administration.
Our Structure
BRFM is a volunteer based non-profit organization and is registered as a Society by the Government of Alberta. Today we are totally self-funded by our members.
Our Board has nine directors and is supported by 5 sub-committees: Government Relations, Legal, Communications & IT, Research and Technical. If you have any interest in joining one of our subcommittees or the Board please let us know by sending an email to info@bownessrfm.ca.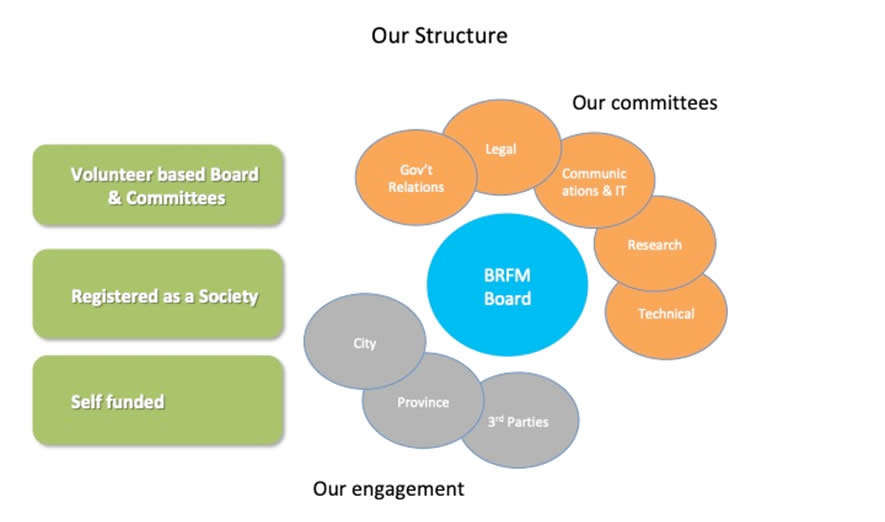 BRFM Board Members
Our History
BRFM was founded in 2018 by members of the Bowness Community in response to the City of Calgary's (CoC) plan to build community barriers in Bowness and the Government of Alberta (GoA) committing to conducting an assessment of reservoir options on the Bow River to mitigate the impacts of both flood and drought.
Below is a timeline of some of the milestones related to our advocacy for responsible and effective flood mitigation strategies for Calgary communities along the Bow River:
---

Like Us, Follow Us